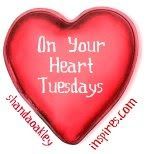 Things have been crazy in my life and I have not had a chance to write a post. I just returned from a full day at Biola University with my daughter and her boyfriend and have to head out again.

However, I am putting up the link to On Your Heart Tuesday so you will have the opportunity to link your posts, and, hopefully, get a chance to read what your neighbors write. I love hearing what is on your hearts and minds and learn so much from all of you. Thank you for your faithfulness in linking with this blog hop.

Please link back to this blog so our community can grow.